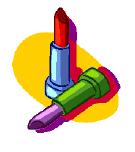 Q: How can I help cure acne prone skin?

A: Don't wear makeup to bed.

Don't use astringents. If you do you may remove
too much oil from your skin

Don't pick or squeeze pimples

And when buying make-up, buy only oil-free
make-up
Beauty in the Kitchen

Deep Conditioning- Use olive oil and honey
as a conditioning hair mask.Mix equal parts
honey and extra virgin olive oil and apply
to your hair. Leave in for 20 minutes
and then Rinse.